Nollywood in recent times have crossed over to standard budget cinematic movies that are worth international recognition. However, we still have a long way to go in terms of casting and acting.
Here are 5 Nollywood movies with disheartening performances. You might want to hold your breath for this one.
For this list, we are focusing on standard budget movies and cutting across male and female, so you won't be seeing the likes of BlackBerry babes, or Azonto babes, you know, those iweka road movies with over 5 parts, for they probably deserve a list of their own.
Shall we get to it?
5. TWO BRIDES AND A BABY – Keira Hewatch
One critical acclaimed movie with a female producer that went on to win numerous awards at the AMVCA 2013, including a best actor for the leading man OC Ukeje. However just like my thoughts exactly, the leading woman was snubbed. Not Stella Damascus, of course she was great, i'm talking of the other Bride, with hands on her waist.
The character Keche played by Keira Hewatch would probably go down to be the most over acted character in Nollywood history. Her performance was nerve wrecking and unbearable to watch. Every line she gave was like watching a car crash into a road side shop. Be sure to find yourself shouting 'Jesus!' multiple times without knowing why. She took it too serious and ended up being snubbed in every major award the following year. When I see performace like this, I always wondered how they get the roles.
4. 30 Days In Atlanta – AY
Likely the best selling movie of 2015, with cross over acts from Hollywood and beyond, however, there is no denying that Ay didn't do a good job bringing out the life in the character Akpos. He tried virtually too hard to make the jokes work, except for the very old classics lines we were all familiar with. If not for the performing craft of the supporting actor Ramsey Noah this movie would have been one of those movies, because I doubt Ay's performance could have carried it all on his shoulders.
For everytime you see Ay in the movie, you can now help but think of Bovi, who by the way is the certified Akpos in the Comedy business. Why wasn't he just given the role?
3. Mirror Boy – Osita and Fatima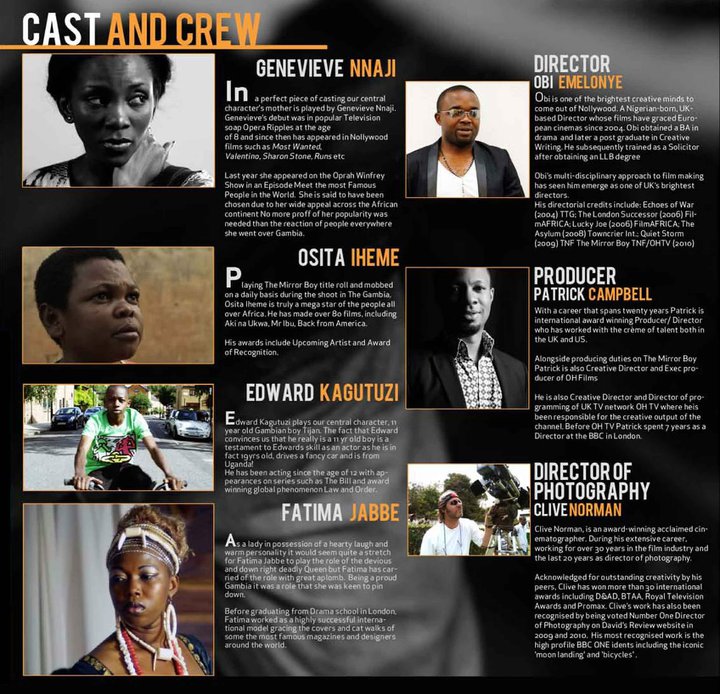 This movie was a better half of a full birthday cake. Beautifully filmed but bizarrely casts.
Edward Kagutuzi who played the little boy, gave an astonishing performance, along with Genevieve who always delivers but you will have your nerves trembling WTF for every time you saw Osita Iheme give a line. There were times I couldn't even hear the words he was saying, it had nothing to do with sound but everything to do with his deliverance. It was as if, he wasn't paid well, so he just decided to sleep on it and memorize his lines right before it was shot. Nothing. No depth in his performance. No light, just serve raw rice, no stew. As if that was not bad enough, Gambian actress Fatima Jabbe totally took it off the ground. Giving a salty performance. With delay deliverance of line, and poor execution of emotions. And when she even almost delivered a line properly, she did way too much!!! The good thing was that only Genevieve got a nomination at the AMVCA, with the little boy winning an Africa Academy award for young performance. The rest were dumped where they belonged, in the den of Rotten Potatos.
2. A Soldiers Story – Linda Ejiofor
One of the most imbalance movies you would ever see. Good to watch but, a little something something, but this is not about the movie in general but the disturbingly hunting performance of Linda Ejiorfor in the role of Regina.
You would need to fasten your seat belt for every line she delivered, because there is a chance it might take you off the edge of your seat, landing you on your head. Yes, blame it on the script, agreed, the screenplay was nearly terrible but she had the job as an actress to make it look good, instead she worsen the case. Linda is a good actress, I mean, she won the AMVCA for best supporting actress for the meeting but this one right here was a role that shows how much work Nollywood got to do in their casting.
She was supposed to play a Kenyan? Or a what? Because with all that accent she was making it was hard to know what her character was. There were even times she forgot she was playing a foreigner and led on with her Nigerian accent. That's why she was snubbed at the AMVCA. I guess.
1. Every Movie With Rukky Sanda In it.
If you haven't seen any Rukky Sanda movie in recent times, then you shouldnt. Unless you want to have a good laugh of something that shouldn't be funny, but funny still.
She has a thing for surrounding her self with good actors so she herself will look good, but no, you can see right through her in every line she breathes for every movie she makes of herself being the center of attention. In addition to poor script and poor cinematography, her performance is a bullet wound on viewers who are used to real art. Maybe she should stick to supporting roles and stop leading, because her deliverance of character is not far from having your appendix burst right inside your abdomen.
If there is any consolation, she's pretty.

Thanks for viewing. Is there any good Nollwood movies with terrible performance we missed? Feel free to let us know.